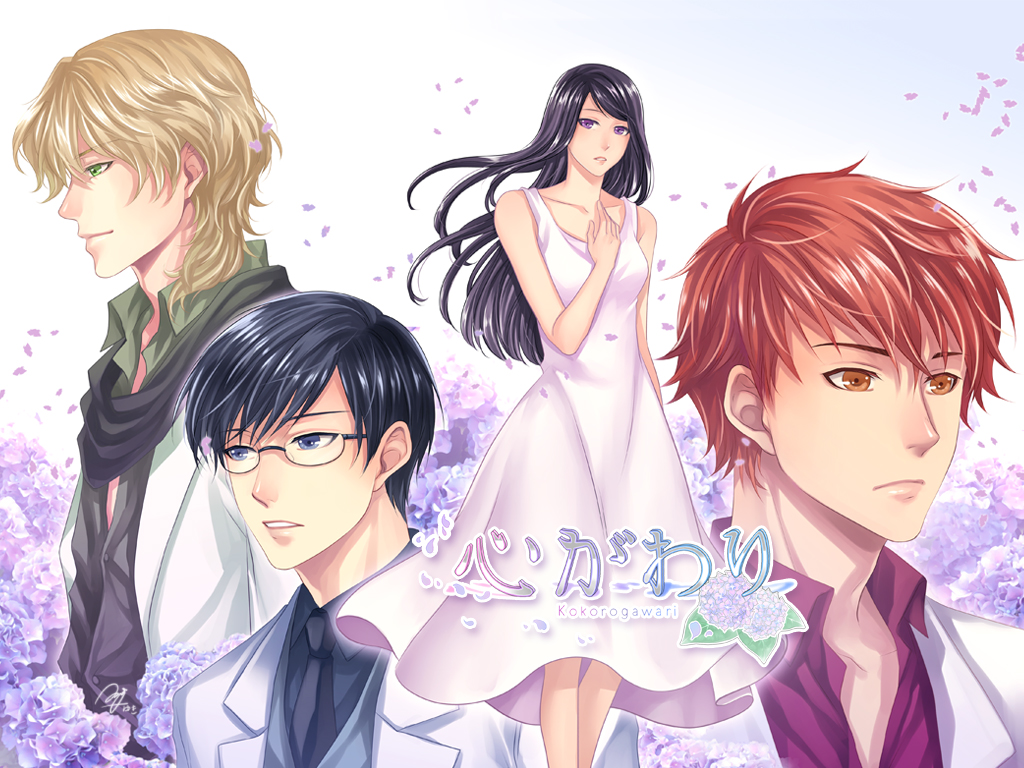 Kokorogawari
Last update before our release on Steam...!
---
Hello everyone! We are so excited to finally be releasing Kokorogawari!
It has taken us 2.5 years from the start of the script writing to this point due to various development and manpower issues, but we are finally, finally, finally here...! /Hyperventilates
Although Guillam's route is still TBD, please be rest assured that our new writer is working on it with Jyuu, and we will try to have his route released by the end of this year.
As of now, we are still debugging the routes and editing things to create a more pleasant VN experience, so while we are still hoping that we will make the release date, it appears that we might not be able to hit the date, as we still have to wait for Valve to 'approve' our beta build before we can officially release it. ):
(Sorry this is my fault for not checking out the submission process thoroughly on Steam T_T) -Jyuu
If there are no major issues with Valve and our submission, it is estimated that we will be delayed for at most for a week, so please be rest assured that this is not yet another empty promise!
AUGUST WILL NOT PASS WITHOUT THE RELEASE!!!
August is also the month in Kokorogawari where lots of fun things happen, so we hope that everyone will enjoy experiencing August in the story!
*************** What comes next *************
Some of you may be following our official Twitter @Precatio_VN and may know that we have been thinking of making some extra content with funding after releasing the first two routes.
While many may hesitate at this since we had taken such a long time in development for the main story already, please do allow us to explain the reasons why!
The initial funding goal for Kokorogawari was an extreme miscalculation.
As of now, we still owe the artists a huge sum of money for all the beautiful work that they have done for us - extra sprites, extra clothes, extra expressions, extra BGs and extra CGs... these had cost money and as an amateur team, we had miscalculated the initial costs. When we had first launched Kickstarter, we were afraid to fail the funding goal and had priced everything at a much lower rate. But as time went on, we found out that there were many things that we had not accounted for, and everyone in the team was starting to burnout from the sheer amount of work to be done. (It also didn't help that one of our core members went MIA with a large sum of money which could have partially covered the costs...) However, everyone pulled through, and here we are now, bringing you a product which we have poured our sweat, blood and tears into!
Therefore, as a way to pay the artists, we are currently looking into ways where we can garner more support from the community and launch a second round of crowdfunding.
However, the extra perks will only come after we hit the funding goal for repaying our artists, and the stretch goals after that! (There are some really interesting scenes in the Preorder and Deluxe Short Stories, which include naked sprites, and we really want to make it happen.........) If we had extra funds, we will even add a couple more CGs to the Short Stories!
So, please help us by sharing about Kokorogawari! It can be something as simple as linking Kokorogawari's Kickstarter or official blog (www.precatio.wordpress.com) to your blogs, or helping to bring awareness to our soon-to-be release by posting an article on your blogs/tumbler! You can even just make a simple tweet with #kokorogawari and tell others about our game! If we get enough interest, we will be ready to launch our second crowdfunding campaign, and upgrade our game even more!
Of course, all these will only happen after our release, so please do not worry that it will affect Shinichi/Yuuya's route, or the production of Guillam's route. :)
How else you can help:
There are 2000 downloads on itch.io and 200 buyers (Kickstarted included) for this game, and while we know that not everyone has a blog, we know how word-of-mouth can help a game really gain attention!
Therefore, after you've played Kokorogawari and you really enjoy it, please leave a review on your blogs, Tweets or even on our Steam page! The more people buy our game, the faster we can recoup our losses and finally pay our overworked artists :D
We are looking forward to having everyone finally play our game, and we are just so thankful for all of your support all this time!
Please look out for our next update, because the next one will be when we have finally launched it officially on Steam!